For the second straight year the OHSAA State Basketball Championships will feature a team from Putnam County……or two.
Joining the Ottawa Glandorf Titans in Columbus will be the Leipsic Vikings and Coach Scott Maag. Leipsic utilized their pressure and outstanding play from D4 All-Ohio First Team selection Devin Mangas to earn the schools first state birth since Calvin Coolidge was President of the United States. 5 of the 16 schools involved in the tournament the last time the Vikings made it are no longer in existence even.
Can Mangas continue the sensational run he has been on as of late in which he has put up multiple 30 point games en route to leading Leipsic to a 24-4 record and a spot in the Division 4 State Semifinals on Friday? To get his team to state and a possible matchup against likely Cleveland area powerhouse Villa Angela St Joseph he will need some help from his teammates, most notably Austin Brown and Aric Schroeder to apply the pressure to advance past 25-2 Lancaster Fairfield Christian. The Knights are led by Steven Carpenter, a 6-3 junior averaging 20 points per game, and 6-7 senior center Justin Potochnik who is averaging 18.4 points per contest. The contest will take place at 2pm from Value City Arena in Columbus, Ohio and can be head on www.zsportslive.com channel z1 with Rudy Lomeli and Dave Boninsegna on the call.
Both teams starting lineups:
Leipsic:
G   3  Devin Mangas, 6-0, Sr., 18.0 ppg
F   5  Derek Steffan, 6-3, Sr., 5.4 ppg
F 10 Austin Brown, 6-3, Sr., 12.5 ppg
G 14 Caleb Barrera, 6-2, Sr., 6.3 ppg
G 24 Aric Schroeder, 5-10, Sr., 4.3 ppg
Fairfield Christian:
G 10 Zach Sullivan, 6-0, Sr., 7.5 ppg
G  11  Steven Carpenter, 6-3, Jr., 20.0 ppg
C   3  Justin Potochnik, 6-7, Sr., 18.4
F  14  Nick Spurgus, 6-4, Jr., 7.6 ppg
F  24  Tyler Stevens, 6-1, Jr., 3.9 ppg
Ottawa Glandorf's 2011-2012 season ended in disappointing fashion as the Titans fell short of their goal of reaching the State Championship as they lost in heartbreaking fashion to Portsmouth.
OG comes into the game this year with a renewed focus and a ton of experience at the state level as they return senior and Northwest District Player of the year and D3 All-Ohio First Team selection TJ Metzger, as well as classmates and starting 5 members in Matthew "Chewey" Kaufman, Caleb Siefker and Michael Rosebrock. Experience will not be a problem for this Titans team as their starting 5 in completely intact from last season, something rare in Division 3 teams.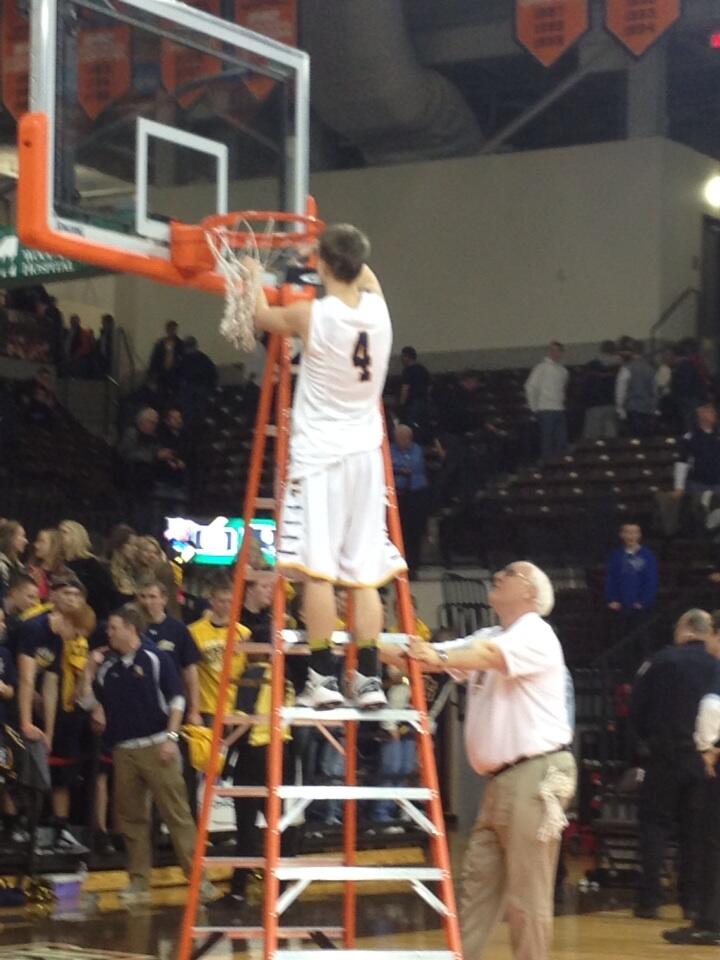 After getting a measure of redemption against LCC who beat them earlier in the season, the Titans dispatched a very strong shooting Bloom Carroll Bulldogs team that up to that point had only incurred one loss on the season 60-56  in OT to up their all-time record in tournament at BG to 25-4. Noah Bramlage led OG with 15 points/9 rebounds while Rosebrock and Metzger each poured in 13. Kaufman handed out 6 assists in the win, but was most dominant on defense by playing the point in the 3-2 Titans defense that was able to force Isaac McGlone (headed to Eastern Kentucky and had 30 in the game) to taking bad shots late in preserving the victory and sending Ottawa Glandorf back to Columbus.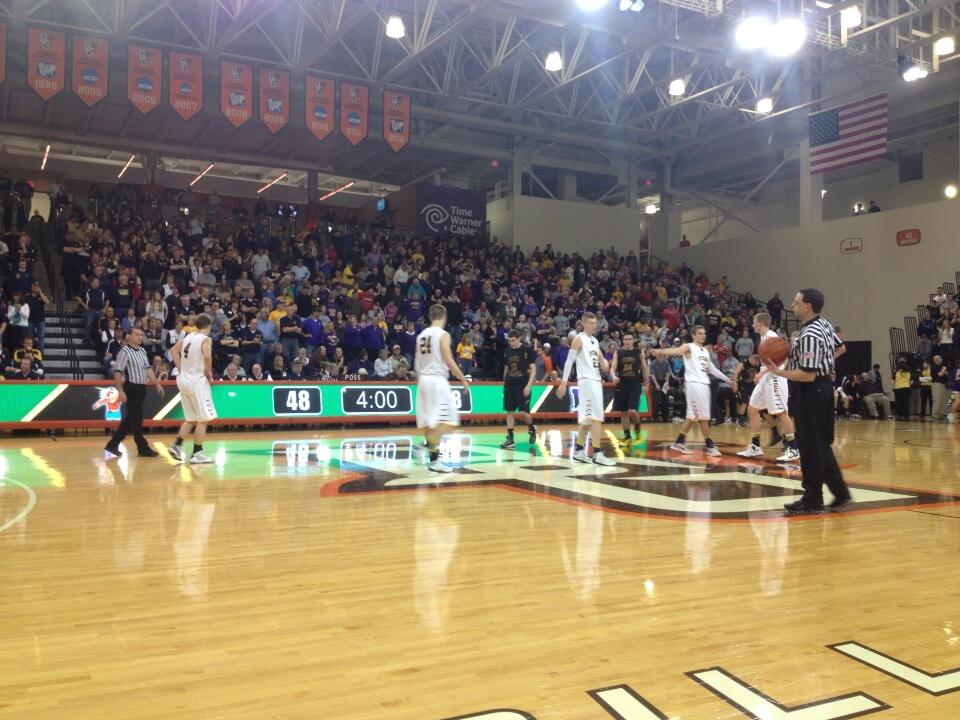 OG(24-3) will face Ironton (23-2) whose only two losses this year took place at an early season tournament in Florida. Here's a look at both teams starting lineups:
Ironton:
G  30  Zac Carter, 5-9, Sr., 23.9 ppg
G  34  Josh Glover, 5-10, Sr., 3.4 ppg
F 44 Trey Fletcher, 6-6, Sr., 20.4 ppg
F  42  Trevor White, 6-4, Sr., 9.2 ppg
C 45 Aaron Stephens, 6-4, Sr., 3.0 ppg
OG:
G 4 Matthew Kaufman, 6-0, 4.6 ppg
G  24  Caleb Siefker, 6-4, Sr., 6.0 ppg
F 23 Michael Rosebrock, 6-4, Sr., 12.9 ppg
F  31  Noah Bramlage, 6-7, So., 10.5 ppg
G  32  T.J. Metzger, 6-1, Sr., 16.1 3 ppg
Listen to the Zsportslive Postgame Show with myself and Rudy Lomeli as we interviewed Kaufman, Rosebrock and Noah Bramlage after the big victory: http://chirb.it/0aLIHh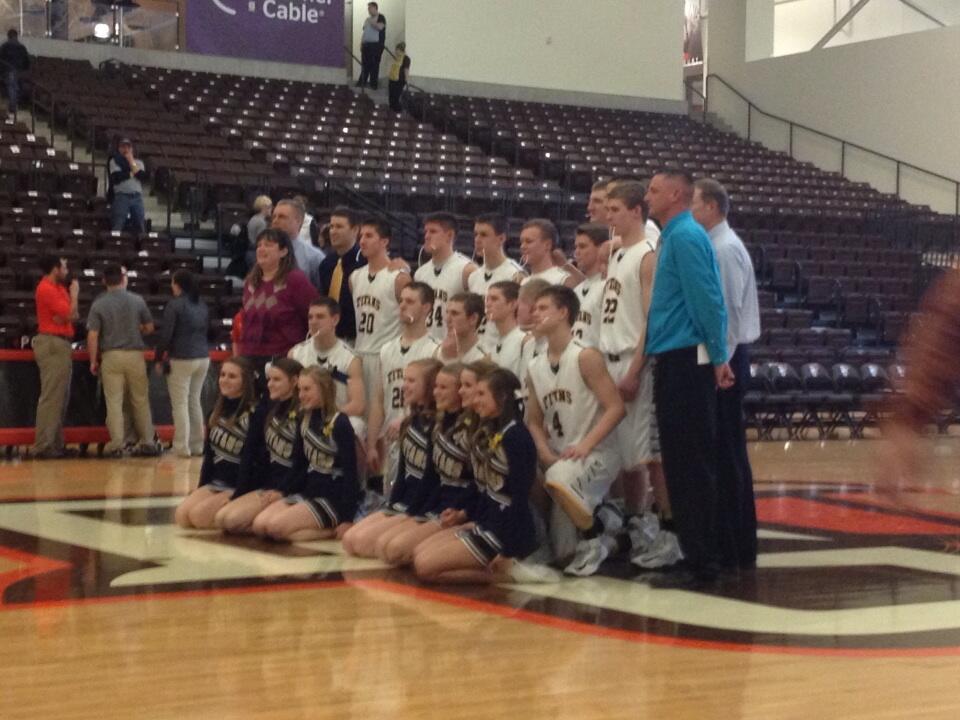 Ottawa Glandorf and Ironton will tipoff from the Value City Arena in Columbus at 10:45am on Thursday morning as myself and Steve Wiener will bring you the action live on www.zsportslive.com on channel z1.